Conveyancing Lawyer Sydney
Green & Associates are the Leading Conveyancing Solicitors Sydney-Siders Trust with Their Property Matters.
Whether you're selling your home, buying a new property or subdividing land, you need an experienced conveyancer on your side.
At Green & Associates, we're the conveyancing lawyer Sydney locals turn to for all their property needs. Our commercial lawyers handle matters including updating land titles, drafting settlement contracts and conducting strata checks across various complex cases. No matter the case, our Sydney conveyancing solicitors will ensure your interests are represented every step of the way.
With a 97% success rate across over 1,700 cases, we know how to get results. With contacts across major banking and finance industries, we'll leverage our connections to deliver expert advice for your case.
Our team are more than just industry experts. We understand how confusing, stressful and time-consuming the conveyancing process can be — even for experienced buyers and sellers. We'll provide you with open communication, honest advice and exceptional care for the duration of your case while keeping your best interests front and centre throughout the process.
When it comes to conveyancing, don't settle for second best — choose the conveyancing lawyer Sydney residents trust for all their property services. Contact us today.
Green & Associates Solicitors Experience and Success 
In addition to the below, we have acted for the purchaser in a $29M+ residential purchase setting an Eastern Suburbs record;
We have acted in complex commercial property acquisitions and sales involving electricity substations and other Government easements and restrictive covenants;

We act for developers to obtain complicated development consents, deal with isolation of site issues, secure properties for entire streets and on-sell approved developments both prior to and after construction;

We act in highly intricate major commercial acquisitions involving cross-collateralisation of numerous other commercial properties;

We have established SMSFs and trusts for acquisition of both residential and commercial properties.
Negotiated Neighbouring Lot Acquisitions with Complex Financial Arrangements
In a complex and intricate transaction, we successfully negotiated and settled a series of call option agreements for the simultaneous acquisition of neighbouring lots in the Central Coast, with a view to their redevelopment. This process involved not only intricate financial arrangements but also on-sale provisions. Our legal expertise enabled us to navigate these complexities, ensuring a seamless acquisition process.
Commercial Property Purchases with Complex Financial Arrangements
We have acted on numerous commercial property purchases, where we were responsible for drafting Agreement for Lease documents and managing complex financial arrangements. Our meticulous attention to detail and legal acumen ensured that these transactions proceeded smoothly and that our clients' interests were protected.
Alternate Loan Agreements and Unregistered Mortgages
We provided invaluable advice to borrowers involved in alternate loan agreements, including "caveat loans," a complex financial arrangement that requires a deep understanding of property law. This expertise allowed us to guide our clients through these arrangements, ensuring their interests were safeguarded.
Interstate Commercial Property Purchases
Our services extended beyond state borders as we acted in interstate commercial property purchases in Victoria and Queensland. Navigating the intricacies of different legal systems, we facilitated these acquisitions, providing our clients with a seamless and efficient experience.
At Green & Associates Solicitors, we act and advise on a wide range of matters. We provide in-house advice to sole traders and companies on a range of matters, including:
employment-law issues (i.e. enforcing or dispute a restraint of trade clause for previous or new employees);

compliance and regulatory issues (i.e. licencing and underquoting breaches)

all types of commercial matters (i.e. drafting shareholder agreements).
Contact us (02) 8080 7585 if you require support with any legal matters. 
Why choose our Sydney conveyancing solicitors?
Whether you're selling your home or updating your land title, our experienced team provides excellent property conveyancing Sydney-wide.
Our commercial lawyers are committed to your case. We deliver dedicated, efficient services to ensure the conveyancing process runs smoothly. Plus, we offer flexible meeting times and frequent updates to keep you in the loop.
From simple procedures to complex matters, we deliver a streamlined experience to all our clients. With a 97% success rate across the board, we've earned our reputation as some of the best conveyancing solicitors Sydney has to offer.
We keep our costs transparent and offer a 10% discount for fees paid within 7 days of signing with us. With no hidden fees or unexpected charges, we're the property solicitors you can trust for exceptional service.
We keep it simple. No complex jargon or dense legalese — we speak your language throughout the process.
We genuinely care. Our team wants the best result for all our clients. Whether you're buying or selling, we'll look after your best interests.
We don't waste your time. We take a strategic, efficient approach to all our clients, no matter your case.
We're here for you. We'll help you navigate the complex world of property law with clear advice and dedicated care. Our team will give you the support you need.
We're central. Our office is centrally located in Potts Point, Sydney.
We're adaptable. We provide flexible meeting times to suit your busy schedule.
Take a look at our main service areas below:
We also service a range of surrounding areas in Central Sydney. Visit our full list of service areas or get in touch for more information.
With dedicated service and cost-effective results, we're the property solicitor Sydney-siders rely on. Contact us today.
Whether you're updating a land title or preparing a settlement contract, we're the property conveyancer Sydney locals trust
Conveyancers deal with the specific legal processes that need to be followed when transferring the ownership title of land or property from one owner to another.
Conveyancers provide legal advice and information about selling your land or property. At Green & Associates, we prepare and lodge all legal documents required for a successful property sale. We also represent your best interests throughout the process with the following services:
Clarifying your land or property title
Conducting local authority searches to check upcoming plans or developments for the area
Checking heritage restrictions
Assessing the land for bushfire, floods and other potential hazards
Conducting strata checks for apartments
Preparing and reviewing the contract of sale
Arranging and executing the settlement on your behalf
We take the stress out of the settlement process for sellers by preparing legal documents and representing your dealings with the buyer. For buyers, we can prepare and lodge documents on your behalf, conduct property research, enact the settlement and represent your interests to the agent or vendor. Plus, we'll look after your needs with extensive property checks on potential hazards, heritage restrictions and title checks.
Our experienced team is with you every step of the way. Contact us today and discover why we're the conveyancing lawyer Sydney locals rely on.
With over 40 years of combined experience and more than 1,500 cases under our belt, your case is in good hands with Green & Associates. Our dedicated team works hard to ensure your case receives the utmost attention and care to deliver exceptional results.
Learn more about our commercial lawyers and discover the possibilities for your case.
Dominic Green
Principal Solicitor
Specialising in: Litigation & Disputes, Criminal Law, Commercial Law, Property Law and Wills & Estates
Language spoken: English
William Martyr
Senior Associate
Specialising in: Criminal Law
Language spoken: English
Spyridon Augoustinos
Associate
Specialising in: Property Law and Wills & Estates
Languages spoken: English, Greek
Anthony Kuschert
Associate
Specialising in: Litigation & Disputes, Criminal Law, Commercial Law and Wills & Estates
Language spoken: English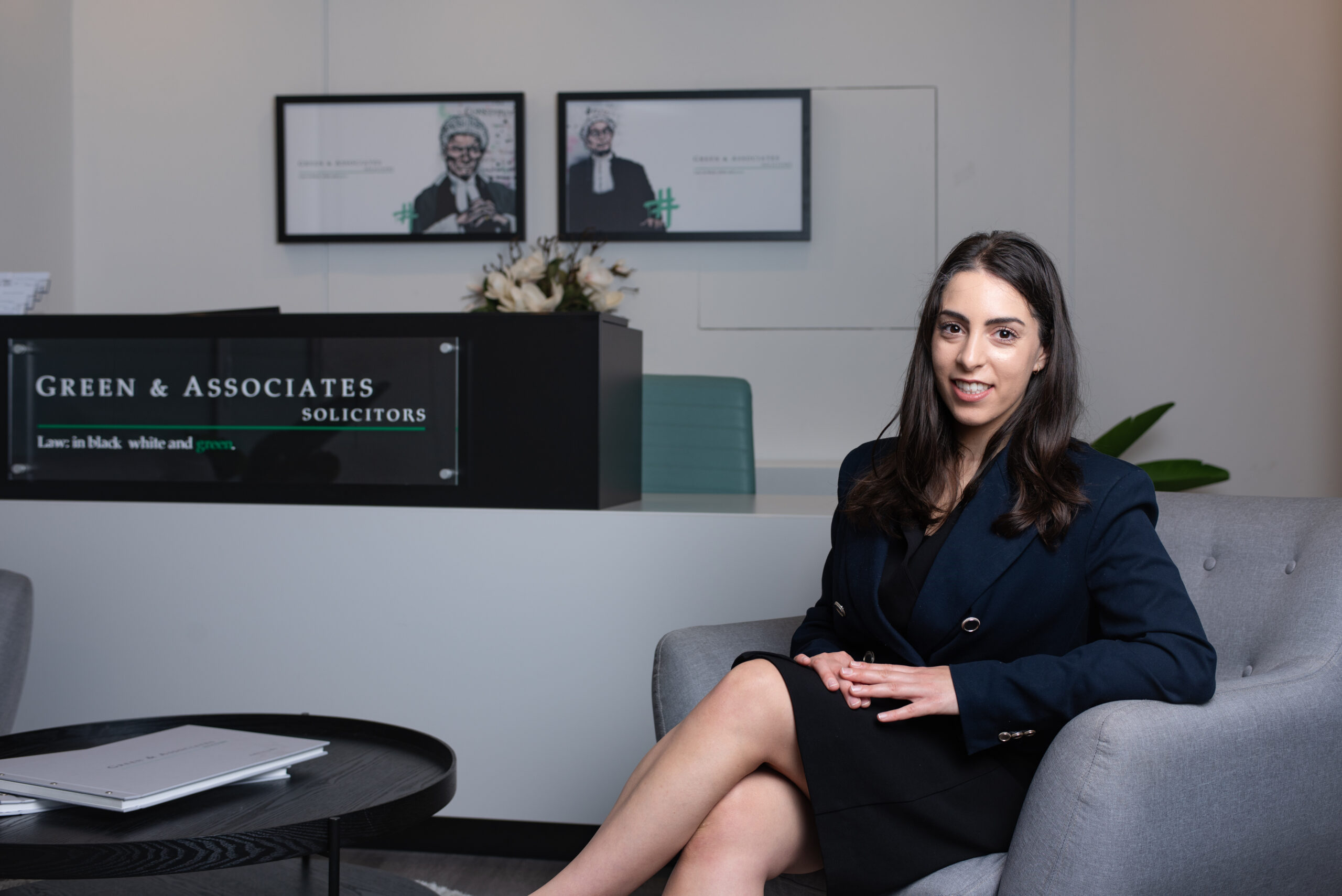 Pamela Katsantonis
Associate
Specialising in: Property Law and Disputes & Litigation 
Languages spoken: English, Greek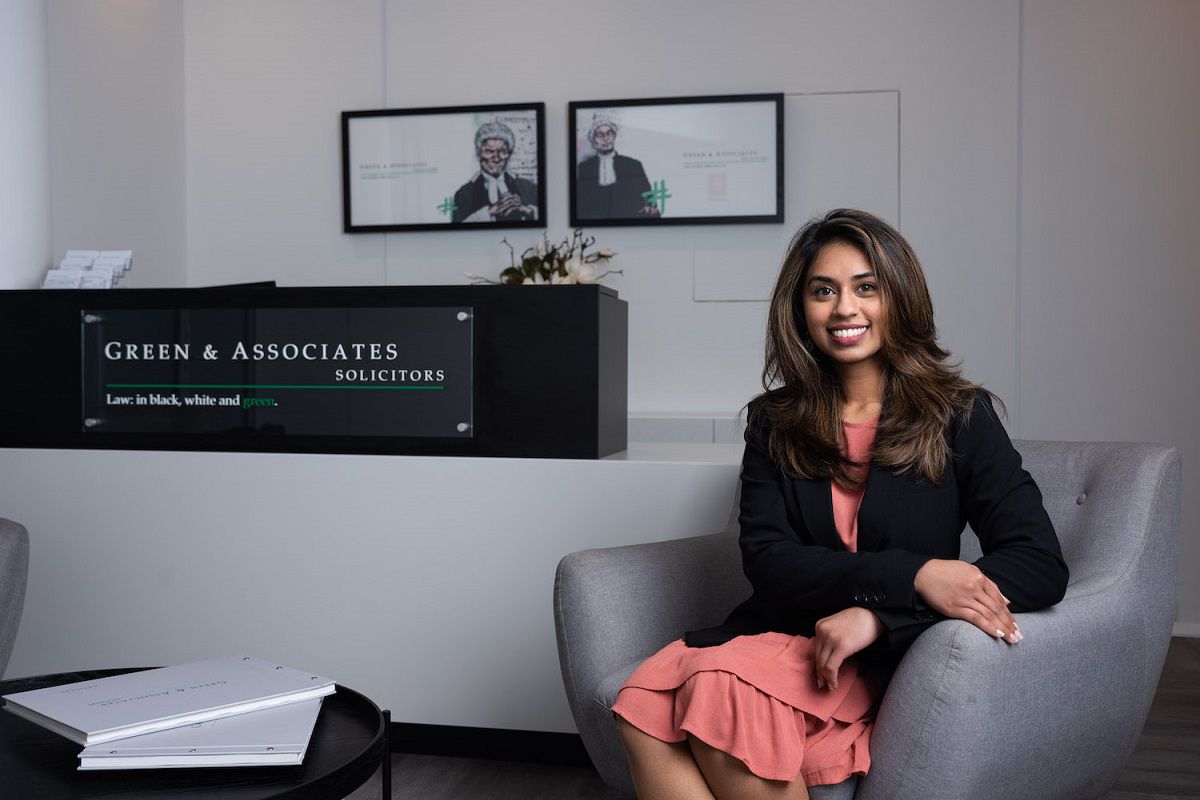 Rayna Thomas
Associate
Specialising in: Litigation & Disputes and Wills & Estates 
Languages spoken: English, Malay
Riva Thapa
Law Clerk
Languages spoken: English
Ivy Green
Debt Collection & Security
Since joining the firm in 2021, Ivy has become an integral part of the team. She is responsible for debt collection, office security and the mental wellness of both staff and clients.
FAQs about property conveyancing in Sydney
Are conveyancing regulations different across Australia?
Yes. Each Australian territory and state has a different set of conveyancing regulations and rules. NSW conveyancing rules fall under section 12E of the Real Property Act 1900.
Our expert team are highly skilled in all areas of New South Wales property law and conveyancing rules. Contact us today and get an expert Sydney conveyancer on your case.
When do I need a conveyancer?
Conveyancers specialise in the transfer of house and land titles between buyers and sellers.
You may need a property conveyancer if you're involved with the following situations.
Selling or buying property and land
Subdividing land
Updating the title of your property or land
Registering or otherwise altering an easement
Our team will deliver the best possible outcome for your property settlement with extensive checks on potential hazards, heritage restrictions and title checks.
Can I be my own conveyancer?
Technically, yes — but we advise against this. While there's no legal requirement to have a professional conveyancer in NSW, we don't recommend handling your own conveyancing unless you have extensive experience with property law. Even then, conveyancing is time-consuming and complicated, adding unnecessary stress during the already tricky ownership transfer process.
When it comes to conveyancing, leave the hard work to us. Our team will provide you with everything to ensure that all your property conveyancing goes smoothly. Choose Green & Associates and get one of the leading Sydney conveyancing solicitors on your side today.
What are the stages of the conveyancing process?
The conveyancing process is divided into three main stages — pre-contract exchange, post-contract exchange and settlement.
Pre-contract stage — The conveyancer will research the property and help the client negotiate the contract terms. In this stage, the conveyancer's goal is to ensure the contract fairly represents their client's interests, regardless of whether the client is buyer or seller.
Post-contract stage — After the contracts have been exchanged, the conveyancer will ensure their client's mortgage arrangements are in order and that all documents related to the property are up to date. A conveyancer may arrange for additional property inspections and check for council certificates to ensure everything is in order before settlement.
Settlement stage — The conveyancer will ensure a settlement is reached and that the transfer of property title is complete.
Are conveyancing fees paid for by the buyer or seller?
The buyer and seller will each be represented by a different property conveyancer and are in charge of arranging their own representation. This means that both parties will be paying separate conveyancing fees.
With excellent communication and efficient results, we're the property solicitor Sydney residents rely on. Contact us today.
With over 1,500 cases under our belt, we're the conveyancer Sydney locals need for all their property and land settlements. Our approachable team takes the weight off your shoulders with exceptional service and superior results. Get in touch today and get dedicated, personalised service for all your conveyancing needs with Green & Associates.